CH. Gridiron N' Newcastle's Southpaw Slinger "Boomer"
Boomer is our "pick male" out of the Stoli x Pablo litter.  He has a square and striking headpiece that resembles his mother Stoli.  He also has a short back, nice topline and excellent bone.  Boomer is silly, sweet, and has a wonderful temperment.  He adores all people especially children.  I could not be happier with this boy.  He is my first champion out of the Bred By Exhibitor Class where I finished him at 16 months old.

Boomer is co-owned by myself and Mary Stevens.  He lives with his brother (a german shepard) and sister (a mastiff).  Boomer is a busy bullmastiff.  He not only has completed his championship, but he as also attended classes with his owner such as Beginning Obedience, Meet and Greet, Trei-ball, and Agility.

In 2013 Boomer started working toward his AKC Grand Championship.  Expertly handled by Guy Fisher, and with limited showing he is just points away from obtaining it. 

Boomer has the following OFA Health Clearances:

OFA Cardiac -Normal
OFA Eyes - Normal
OFA Thyroid - Normal

 
Boomer Select Dog in Indy with Guy Fisher 2013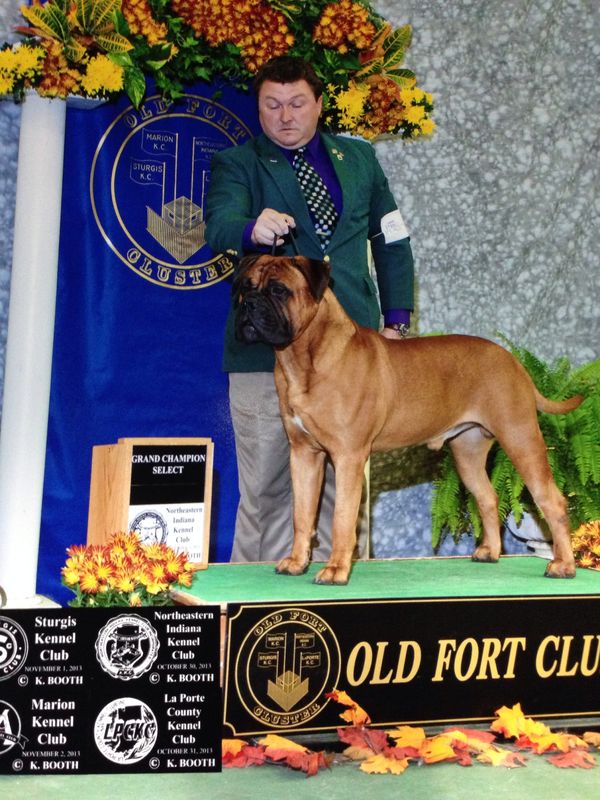 Star Studded Bommer "Legally Blonde Play"